Cardiology
Dr. Robert Prošek is a Diplomate of the American College of Veterinary Internal Medicine (ACVIM) and has also become a Diplomate of the European College of Veterinary Internal Medicine, Companion Animals (ECVIM-CA).
He is board-certified in cardiology. His post DVM training started as an internship in small animal medicine and surgery at the University of Illinois followed by his cardiology residency training of three years. Dr. Prošek also pursued a master of science degree at the University of Illinois and received a degree in Veterinary Clinical Medicine. Special interests include all cardiovascular and respiratory topics especially echocardiography (ultrasound of the heart), novel medical and interventional therapies, blood based markers of heart disease and most importantly his patients.
Dr. Prošek was a clinical assistant professor of cardiology at theUniversity of Florida for four years, where he was responsible forresident, intern and student training. Dr Prošek still serves as an adjunctprofessor of cardiology at the University of Florida, and serves as the cardiologist for Zoo Miami. He is also a reviewer for the Journal Cardiology, Journal of the American Veterinary Medical Association, and the Journal of Veterinary Internal Medicine. Event Though all these activities keep him busy, he feels they are all very important as it allows him to stay well rounded which he hopes will translate into optimal high quality care for his patients.
Diplomate, ACVIM-Cardiology
Diplomate, ECVIM-Companion animals
Adjunct Professor of Cardiology,
University of Florida
Cardiologist, Zoo Miami
---
Dermatology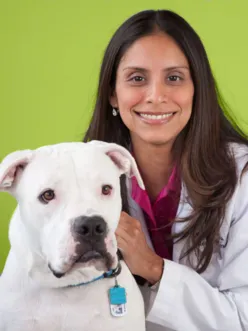 Dr. Millie Rosales did her undergraduate studies at Florida International University where she graduated with high honors with a Bachelors of Biology. She received her Doctor of Veterinary Medicine from the University of Florida, College of Veterinary Medicine in 2000. Following graduation, she worked as a general practitioner in Miami, Florida, for a non-profit smal lanimal clinic. In 2003, Dr. Rosales returned to the University of Florida and completed a two year residency in the specialization of veterinary dermatology. Dr. Rosales is a Diplomat of the American College of Veterinary Dermatology (ACVD), a distinction given only to practitioners who have achieved board certification in this specialty. She has also authored several articles and lectured at local and state veterinary associations. Dr. Rosales holds a strong interest in allergic and immune medicated skin conditions in dogs and cats; and chronic (recurrent) ear infections in dogs.
Outside of the office, Dr. Rosales has distinguished herself as a leader among her peers through memberships and involvement in various professional organizations. She is the past President (2008-2010) of the South Florida Veterinary Medical Association (SFVMA) and has served the association through various committees: membership, newsletter, website, social and continuing education chairperson. She still sits as a board member of the SFVMA. In 2008, Dr. Rosales was awarded the Gold Star Award by the Florida Veterinary Medical Association for her outstanding contributions to the SFVMA. Dr. Rosales is also a board member of the South Florida Veterinary Foundation, and is the new 2014 President for this organization. She is also a member of the American Veterinary Medical Association and the American College of Veterinary Dermatology.
Beyond her dermatology expertise, Dr. Rosales has a strong passion for the care and well-being of pets in shelters and rescue organizations. You will often find her supporting and advocating for local shelter and rescue groups, raising awareness on spaying/neutering and promoting the importance of pet adoption.Dr. Rosales is a native of Miami. Still dear to her roots, she is fluent in Spanish and able to serve the Spanish speaking clients of the South Florida area.
---
General Practice and Certified Acupuncturist
Heidi Foster, DVM, CVA
Dr. Foster started her veterinary career in 2006 after graduating from the University of Florida following an undergraduate degree from Cornell University. Born in Jamaica and raised in South Florida, Heidi's soft spot for animals developed at a young age and she relies on her gentle nature when making medical decisions. Dr. Foster's primary focus is on animal wellness and she recently incorporated a veterinary acupuncture certificate from the Chi Institute to offer a holistic approach for her patients. In her spare time, Heidi enjoys spending time in nature with close friends, family and is in love with her two kitties Mr. Randelsson and Lulu.